Michael Miller
STATEMENT
Current Show: "Face to Face" at Walsh Gallery,
118 N. Peoria St., Chicago, IL 60607
February 4 - 26 / Opening Reception: February 4, 5 - 9 p.m.

Nano: Stories in a Blink

(click image to view this artist's tumble book)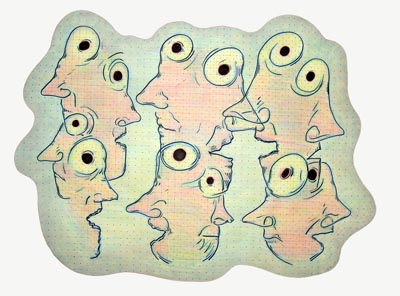 Rumor Stream (ink and color pencil, 24" X 36", 2004)
in "Face to Face" at Walsh Gallery, Michael Miller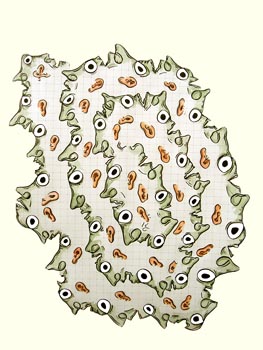 Podheads (ink and watercolor, 30" X 22", 2005)
in "Face to Face" at Walsh Gallery, Michael Miller
Face To Face
The work in this exhibition deals with group dynamics and the role of the individual within the group. In some instances, the point of view is from that of the participant, and in other situations; it's from the observer. Depicted are characterizations of individuals and groups in conflict, harmony and uncertainty. Consistent in all of the pieces are the struggles involved in human social survival.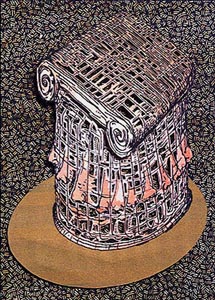 As with previous recent exhibitions, the pieces in this show are narratives that are the results of personal experiences. Most of the components of the work are generated from sketchbook drawings. The drawings are then transformed through the use of copier and computer resources into digital prints. The prints are then cut, arranged, and collaged. By giving the collages a slight dimension, they take on the character of being both an object and a picture. There are also more direct drawings that deal with the same general theme.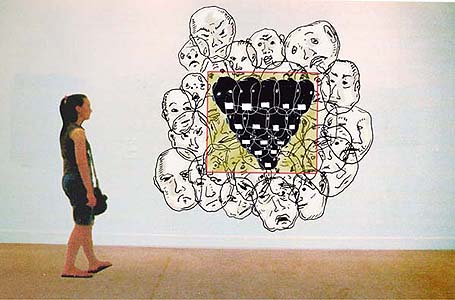 Stylistically, the work refers to opinion and editorial cartoon conventions. This drawing approach is preferred because it is easily accessible. These drawings and prints, in addition to the general theme, grapple with issues of specificity, exaggeration and visual shorthand.
My main references are German Expressionists prints, Saul Steinberg and many political cartoonists.
Michael Miller
March, 2004