Alejandro Romero: Baroque Expressionism
October 6, through November 11, 2001
at The Chicago Athenaeum @ Schaumburg
CHICAGO, ILLINOIS OCTOBER 5, 2001The Chicago Athenaeum at Schaumburg announces a solo exhibition featuring the "Baroque Expressionist" paintings and mixed media on paper works of Chicago resident artist, Alejandro Romero. The show debuts Saturday, October 6, 2001 and remains on display through November 11, 2001, with an artist's reception on Saturday, October 27, 2001.
Romero, a long time resident of Pilsen, is known for his complex and theatrical paintings that pulse with dynamic emotion and rhythmic color. He is often commissioned to provide the art for promotional posters for concerts, civic festivals, stage and opera productions, and art events. Rightly so, his canvases present a stage crammed full of human, mythological and social drama.
Romero's passionate style and sense of composition are in part due to his youth in his native Mexico, where he apprenticed in the studio of the great Mexican muralist, David Alfaro Siqueiros. Later, he received formal training at the Academy of San Carlos from 1967-71. Images of his Mexican heritage in the form of mythology, people, religion, and history bubble to the surface of his work where they often interact with the images and population of his current home, urban Chicago.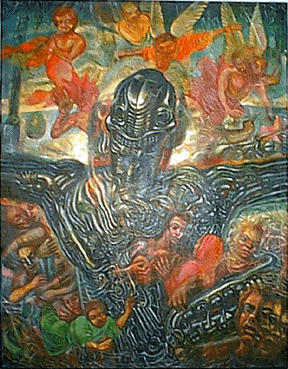 "Renaissance Junkyard"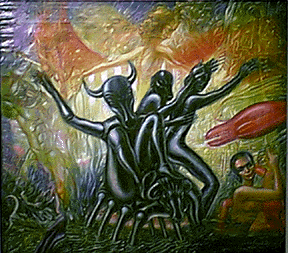 "Lacont and His Sons"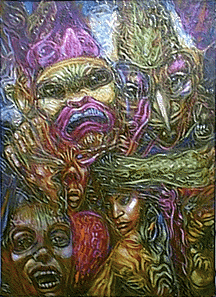 "Comedy of Errors"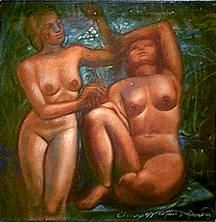 "Baccanal"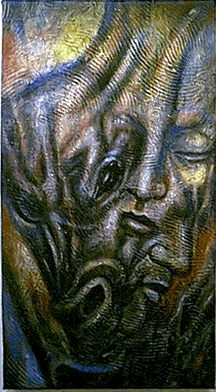 "Crossroads"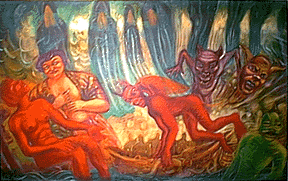 "Little Devils"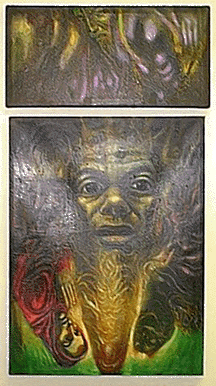 "The Magician"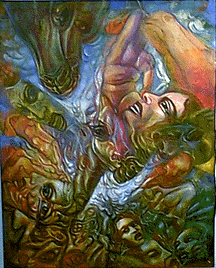 "Process"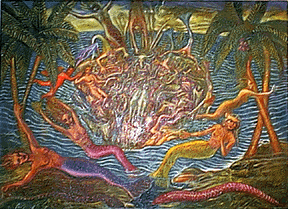 "Guess Who Gave Me the Power"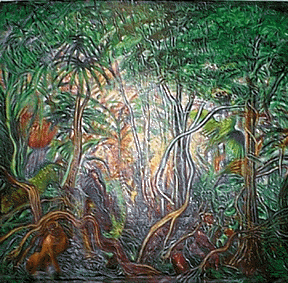 "Rainforest"